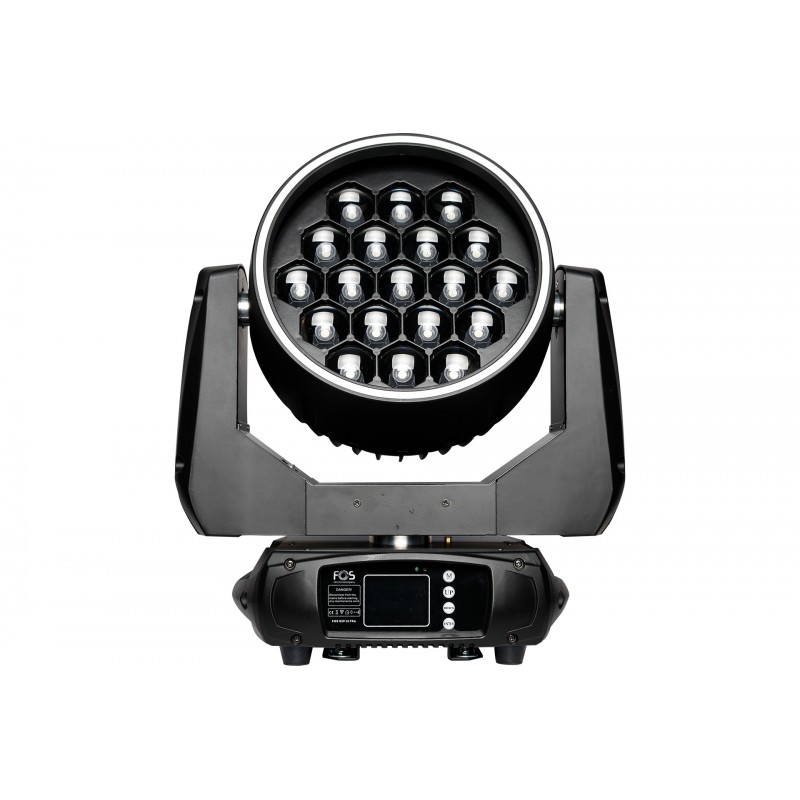  
FOS ELIX HP wash 19x20w + RING RGB
High power wash led fixture with pixel ring,19x20watt RGBW leds controlled pixel by pixel, linear zoom 4°-60° led round ring with dynamic patterns, vortex effect,color temperature adjustment, 28,38,102,114 DMX channels, theater mode, 525x380x560mm 16kg.
Washlight fixture, with zoom, multibeam, pixel effect, and front RGB ring, for visual effects.
Smooth, and acurate colour mixing, for vivid or pastel colours.
Easy temperature correction set, from a single DMX channel.
Ability of soft, or hard multibeam effects.
19x 20 Watt main LEDs, 4 in 1 RGBW.
SMD RGB LEDs on the front ring, for RGB colour mixing, variable colour temperature, and chase effects.
Motorized zoom from 4 to 60 degrees
The rotating lens plateu creates a vortex/multi beam effect, which can be focused for hard or soft light beams.
Independent pixel control for each of the 19 main LED light sources.
Pre programmed chases, and patterns, with selectable background and foreground colours, are available via DMX.
DMX controlled pre programmed chases for the front ring, with adjustable speed.
Linear colour temperature set via dedicated DMX channel, from 2800 to 8000 K.
Input voltage: AC90 - 260 Volt AC, 50/60 Hz.
Maximum consumption: 500 Watt.
Approximate LEDs lifespan: 50,000 hours.
DMX controlled with 26 / 38 / 102 and 114 DMX channels.
Operates at a maximum of 45°C, indoor use only.
55dB noise level rating.
2x omega brackets for installation.
1x safety wire attaching point.
3pin XLR input output for DMX signal connection.
Fixture dimensions: 414 D x 286 W x 412 H mm.
Packing dimensions: 525 D x 380 W x 530 H mm.
Net weight: 16 Kg.